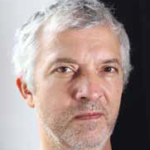 Born in 1965 in Budapest. In 1994, he graduated from the Faculty of Painting and Faculty of the Intermedia at the Academy of Fine Arts in Bu-dapest. He also studied at the Rijksakademie van beeldende kunsten in Amsterdam. He creates installations which combine photography, sculpture and drawing, inspired by topics from the area of mathematics and physics. In his continuing investigation of the mechanisms of perception, he analyses the relationships between plane, time and space, making use of the attainments of such disciplines as kinet-ics, optics and geometry. The results of his experiments are often surprising, amusing and even poetic.
He participated in numerous individual and collective exhibitions, e.g. VIVA ARTE VIVA, 57th Venice Biennial (2017), DOCUMENTA (13) in Kassel (2012), Revolution – Forms that turn, 16th Biennial of Sydney (2008) and Poetic Justice, 8th Istanbul Biennial (2003). Laureate of the Nam June Paik Award (2008). His works are exhibited in many international collections, e.g. at Centre Pompidou, MUDAM in Luxemburg, Hamburger Kunsthalle and Ludwig Múzeum in Budapest.
Nato nel 1965 a Budapest, nel 1994, dopo aver trascorso un periodo presso la Rijksakademie van beeldende kunsten di Amsterdam, ha conseguito la laurea in Pittura e Intermedia all'Accademia di Belle Arti di Budapest.
Le sue opere sono installazioni che uniscono fotografia, scultura e disegno e che traggono ispirazione da alcuni concetti matematici e fisici. Nella sua esplorazione dei meccanismi percettivi analizza la relazione tra il piano, lo spazio e il tempo servendosi delle leggi della cinetica, dell'ottica e della geometria. I suoi esperimenti portano spesso a risultati sorprendenti, divertenti e persino poetici.
Ha preso parte a numerose mostre personali e collettive, tra cui la 57° Esposi-zione Internazionale d'Arte – VIVA ARTE VIVA – organizzata dalla Biennale di Venezia nel 2017, DOCUMENTA (13) a Kassel nel 2012, Revolutions – Forms that turn alla 16° Biennale di Sidney nel 2008 e Poetic Justice, l'8°Biennale di Istanbul, nel 2003. Nel 2008 è stato vincitore del premio Nam June Paik. Le sue opere sono esposte in varie collezioni internazionali come il Centre Pompidou, il MUDAM in Lussemburgo, la Hamburger Kunsthalle e il Ludwig Múzeum di Budapest.
Open Hours
Monday - Sunday: 9am – 8pm
Key words for social share
@ego_virgo @CNRS @INFN_ @IN2P3_CNRS @APC_Laboratory @art_citoyen #GravitationalWaves #Ondegravitazionali #Blackholes #ArteScienza #RitmoSpazio19 #Spazio #Contemporaryart #Marconi #ComunediPisa #Unipi #MuseodellaGrafica