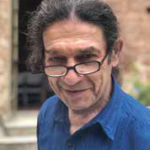 Born in Prague, is an artist best known internationally for his conceptual work with text, obsolete technology and the moving image. His works are in a number of important institutional  collections, including the Tate, London, Van Abbemuseum, Eindhoven, and Sprengel Museum, Hanover, among others. He is also recognised as an inspiring teacher, occasional curator and writer. He co-founded and co-directed the Cambridge Darkroom Gallery (1983-1987) acclaimed for its pioneering approach to photography in contemporary artistic practice. He also had an influential career in academia as the Head of the School of Fine Art at Glasgow School of Art (1992-1996), and as Professor of Fine Art at Manchester School of Art (1987-2016).
Pavel Büchler, nato a Praga è un artista conosciuto a livello internazionale per il suo lavoro concettuale che riunisce testo, tecnologia obsoleta e immagini in movimento. Le sue opere sono conservate all'interno di importanti collezioni istituzionali, tra le quali spiccano quella del Tate a Londra, del Van Abbemuseum a Eindhoven e dello Sprengel Museum di Hannover. È inoltre conosciuto e stimato come insegnante dal grande carisma, curatore occasionale e scrittore.
Ha collaborato alla fondazione e alla direzione della Cambridge Darkroom Gallery (1983-1987), acclamata per
il suo approccio pionieristico alla foto- grafia nella pratica artistica contemporanea. Ha avuto inoltre un'importante carriera in ambito accademico, ricoprendo il ruolo di direttore della School of Fine Art alla Glasgow School of Art dal 1992 al 1996 e di professore di Belle Arti presso la Manchester School of Art dal 1987 fino al 2016.
Open Hours
Monday - Sunday: 9am – 8pm
Key words for social share
@ego_virgo @CNRS @INFN_ @IN2P3_CNRS @APC_Laboratory @art_citoyen #GravitationalWaves #Ondegravitazionali #Blackholes #ArteScienza #RitmoSpazio19 #Spazio #Contemporaryart #Marconi #ComunediPisa #Unipi #MuseodellaGrafica